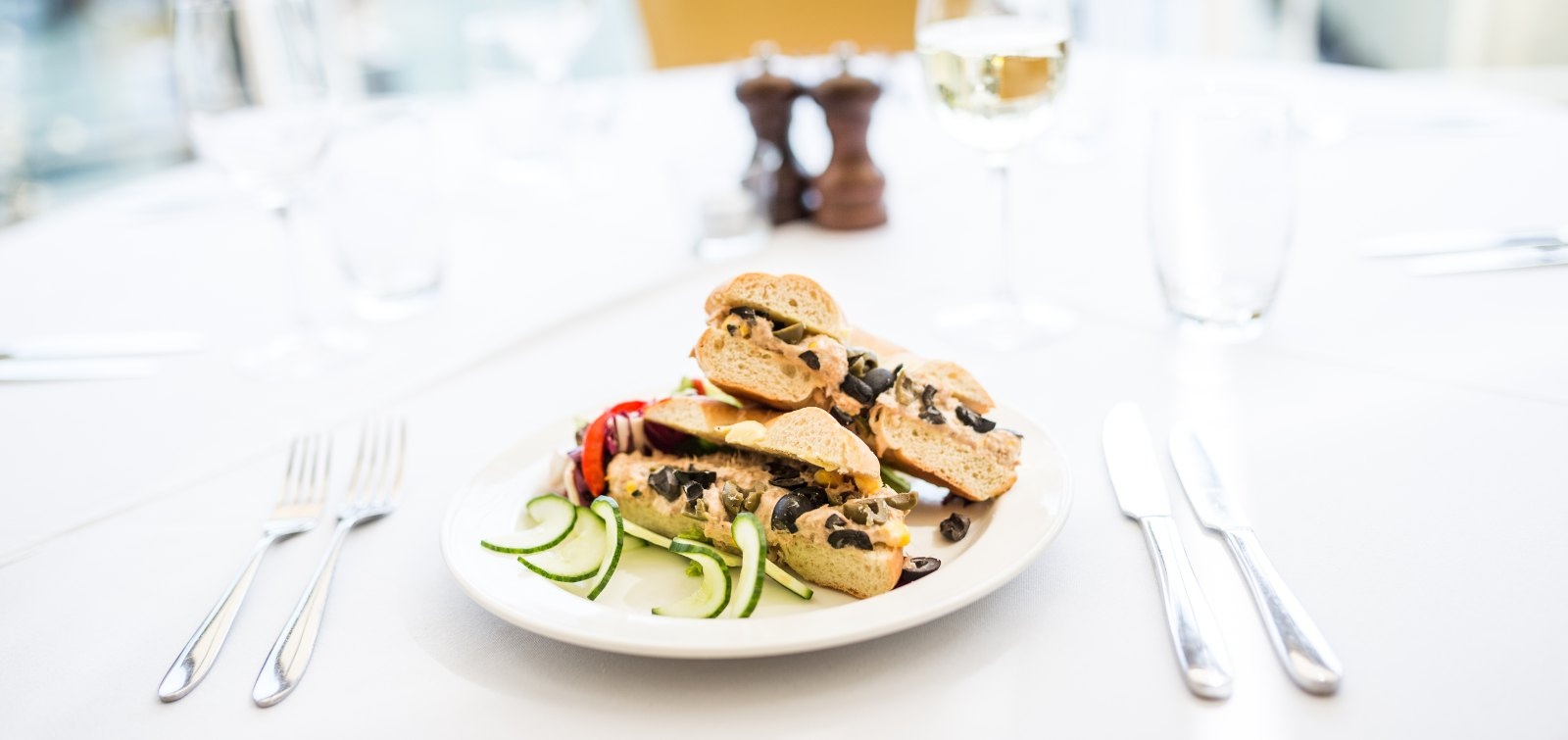 Zuppa del Giorno €5.50
Soup of the day (no croutons)
Garlic Bread €4.95
with mozzarella cheese and basil
Piccante crumbed mushrooms €9.95
Cajun flavoured golden fried mushrooms with homemade taco sauce
Saffron marinated chicken wings €9.95
Mildly spiced, golden fried chicken wings served with a lime and chive crème fraîche
Bruschetta €7.95
Ciabatta with garlic butter, toasted in the pizza oven and topped with cherry tomato, garlic basil and glazed with mozzarella, garnished with salad and pesto
Tagliatelle Pollo €16.95
House smoked chicken with a pepper, red onion and tomato ragout in a rich chardonnay creamy sauce and finished with Parmesan and pesto served with garlic bread
Balcone Carbonara
Pan-fried pancetta, spring onion & garlic in a white wine, cream & Parmesan sauce with sun –dried tomato pesto
Pasta shells with smoked salmon, Boston prawns €16.95
Creamy white wine sauce flavoured with a hint of saffron, lemon and braise fennel finished with Parmesan and garlic bread
Goats cheese and roast red pepper tortellini €15.95
Tossed in a tomato and basil sauce, finished with Parmesan, pesto and served with garlic bread
Pizza Diavola €15.95
Fresh tomato sauce, pepperoni, jalapeños and premium mozzarella
Pizza Nonno €15.95
Fresh tomato sauce, premium mozzarella, fajita chicken, bacon and smoked applewood cheese
Pizza with meatballs €15.95
Fresh tomato sauce, premium mozzarella, meatballs and peppers
Pizza carni feast €15.95
Fresh tomato sauce, premium mozzarella, salami, meatballs, pepperoni and jalapeños
Pizza prosciutto and funghi €15.95
Fresh tomato sauce, premium mozzarella, parma ham and mushroom
Pizza balcone margherita €14.95
Fresh tomato sauce, buffalo mozzarella, cherry tomato, smoked applewood cheese and pesto
Sirloin 10oz €24.95
All our steaks are served with onions, mushrooms and fries. Please choose garlic, her butter, Gaelic sauce or pepper sauce. All sauces are gluten free.
Italian Marinated Chicken
Grilled Fillet of Chicken served with a Whiskey Mushroom Gaelic Sauce and topped with Onion Confit
Chef's daily special
Please ask your server
Filleto di salmone €18.95
Baked supreme of salmon with a saffron-fennel sauce, pickled red onion and basil mash
Anoitra arrosto €24.95
1/2 honey roast duck with basil stuffing, braised red cabbage served with orange sauce
Pollo chorizo and funghi €17.95
Grilled fillet of chicken on mash potato served with chorizo and mushroom sauce, garnished with sweet potato puree
SOUP OF THE DAY €4.95
Served with fresh homemade brown bread
CAESAR SALAD S €8.95 | Large €10.95 | Add Chicken +€3.00
Baby gem, bacon, herb croutons and aged parmesan in a rich caesar dressing
SWEET CHILLI CHICKEN SALAD S €9.95 | L €13.95
Grilled escalope of chicken carmelised in sweet chilli on baby leaves
GOATS CHEESE AND TOASTED ALMOND SALAD €9.95
With mixed seasonal leaves, cherry tomato, drizzled with whole grain mustard vinaigrette
SPICY CHICKEN WINGS s €9.95 | l €12.95
Louisiana hot sauce, blue cheese dip, pesto vinaigrette
BREADED CHICKEN FILLET GOUJONS €8.95
Served with garlic mayo & sweet chili dressing
GOLDEN FRIED MUSHROOM FRITTERS €7.95
Served with garlic dipping sauce and baby leaf salad
HOME-MADE DUCK SPRING ROLLS €8.95
With dark soya and sweet chilli syrup
CHAR CHAR CHICKEN S €9.95 | L €13.95
Wok tossed checken, lightly battered, char chilli dressing and mixed leaves
CHICKPEA AND ROASTED PEPPER SALAD S €9.95 | l €12.95
With mixed leaves, cucumber, tomato and celery, dressed with house vinaigrette
IRISH OAK SMOKED SALMON €12.95
Confit red onion, caper mayo served with homemade Guinness brown bread
ATLANTIC SEAFOOD CHOWDER €7.95
Selection of fresh seafood with white wine cream and served with homemade brown bread
ATLANTIC PRAWN COCKTAIL €10.95
Over shredded lettuce dressed with Marie Rose sauce
GRILLED LEMONGRASS SKEWERED KING PRAWNS €9.95
Flavoured with lime and coriander, served with wilted bok choi and pineapple salsa
SALMON & SMOKED HADDOCK FISH CAKES €9.95
With chilli, ginger, mixed herb salsa & peppery rocket
10OZ BRIDGE HOUSE IRISH STEAK SIRLOIN €24.95 | FILLET €28.95
All steaks are served with hand-cut, triple-cooked chips, roast cherry tomato, spiced onion rings and garlic butter, pepper sauce or red wine jus. All steaks are 28 days dry aged
BOOKMAKER SANDWICH €17.95
6oz fillet steak cooked to your liking served over doorstep bread topped with frizzled onions and chips.
8OZ IRISH BEEF BURGER €14.95
Succulent 8oz Irish beef burger, grilled emmental cheese, crispy Tullamore smoked bacon, caramelized red onion, jalapenos, house sauce, lettuce, floury bap & chunky chips
HALF ROAST DUCK €19.95
Apple and pear stuffing finished with juniper, orange sauce and sweet potato crisp
BBQ PULLED PORK €14.95
Slow braised shredded pork finished in a hickory smoked bbq sauce served on a brioche bun and accomapnied by coleslaw, fries and apricot chutney
CHICKEN CURRY €14.95
Tender chicken breast in a mildly spiced curry sauce flavoured with coriander and coconut milk,served with basmati rice and naan bread
CHAR CHAR CHICKEN €16.95
Wok tossed chicken, lightly battered with stir-fried oriental vegetables; char chilli dressing served with fries or steamed rice
ROAST CHICKEN BRIDGE HOUSE €16.95
Roasted fillet of chicken with spinach & potato stuffing, wrapped in Tullamore bacon & served with gaelic sauce
CHICKEN AND MUSHROOM VOL AU VENT €14.95
Tender chicken pieces in white wine mushroom cream sauce served in a puff pastry case and chips
BRAISED LEEK & PORCINI MUSHROOM PENNE €13.95
Al dente pasta tossed in a creamy white wine sauce, braised leeks, garden peas and porcini mushrooms, topped with fresh parmesan & served with garlic bread
BANGERS AND MASH €13.95
Sun-dried tomato and pork bangers over whipped potatoes with carmelised red onion gravy
BEER BATTERED FILLET OF COD €16.95
Served with minted pea, tartar sauce and chunky triple-cooked chips
BAKED SUPREME OF SALMON €18.95
With lemon-cumin cous-cous salad, hazelnut pesto and pickled fenne
SEAFOOD VOL AU VENT €15.95
Cod, smoked and fresh salmon and prawn pieces in white wine mushroom cream sauce served in a puff pastry case and chips
PAN SEARED FILLET OF HAKE €17.95
Saffron and Champagne Light Cream Sauce
Minestrone with Garlic & Mozzarella Croutons with Basil Oil €3.50

Cream of Vegetable with Croutons & Basil Oil €3.50

Breast of Irish Chicken Kiev with Garlic Butter €9.60

Baked Fillet of Salmon with Lemon Butter Sauce €9.60

Shanks of Lamb with Rosemary Jus €9.60

Chicken & Mushroom Vol au Vent €9.60

Chicken&Pasta Carbonara with Grilled Garlic Bread €9.60

Baked Potato with Crispy Bacon Bits and Sweetcorn €6.50

Chicken & Stir Fry Vegetables with Noodles in a Black Bean Sauce €9.60