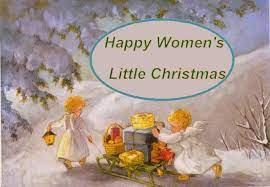 Nollaig na mBan (pronunciation Null-ug na Mon), which can be translated from Irish (Gaelic) as "Women's Christmas," is one of Ireland's biggest traditions and is observed on January 6. On this day, women traditionally get a much-needed rest after catering to everyone during the holiday festivities.
In the Christian religion, January 6 is the Feast of the Epiphany, which celebrates the manifestation of the son of God on Earth and marks the end of the 12 days of Christmas, giving way to the 'Little Christmas' nickname.
Traditionally in Ireland (and apparently in Puerto Rico also), Nollaig na mBan is the day on which all the Christmas decorations must come down—not before or after—or else risk bad luck for the rest of the year. When holly was the only decoration in Irish homes, it was taken down on this day and burnt.
In rural and small-town Catholic Ireland, especially, women would gather in each other's homes or local pubs for a few stolen hours of gaiety while the men looked after the brood.
Treat the woman or women in your life to a night to remember at the Bridge House Hotel with Women's Little Christmas with a fun-filled night, bubbly drinks reception, live entertainment and a Gourmet four course meal in aid of Offaly Hospice Foundation €49.95 per person