Explore
We Care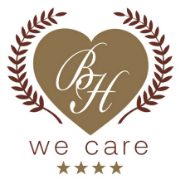 Covid -19 Policies and Procedure
While we must wait to shake your hand.
Please be rest assured that we welcome you with a smile and a warm heart.
The Bridge House Hotel has introduced a keep safe Policy and Procedures to assist you and the team with ensuring you have a safe and memorable stay with us.
We understand that you as a guest, may have queries and questions, please be reassured that our team are here to help.
To assist in your safety, we are implementing the following policies and procedures. All policies and procedures are designed with best practise from the HSE, IHF and EHO. We understand that some of these procedures goes against the very fibre of hospitality and what the BHH is so well known for. We ask for your understanding and we would very much welcome any constructive feedback as we are also learning and growing in this difficult time. We have created the Bridge House Hotel Keep safe team that consists of 5 members of the management team and cover the following areas to ensure the safety of the Guest as well as the brilliant team we have working during your stay


Cleaning of bedrooms and public area protoco
Back to work protocols for team members
During work protocols for team member
Kitchen and food preparation protocols
Guest experience and operations protocol
As a team we have looked at the full guest experience from those who are staying with us to those who are looking to get something to eat. More info on all areas is available in other areas of this information bulletin.
As a team we welcome you to the Bridge House Hotel and more importantly we thank you for coming to stay with us as. It will only be as a community we will get through this difficult time.
Keep Safe
Regards,
_____________
Barry Kilroy
General Manager
Staying guests
We are asking all guest to prepay before arrival to help reduce the time needed at reception for check in.
Credit / Debit cards will be charged the morning of your stay with an invoice emailed to you prior to arrival.
All guest info will be also emailed to you prior to arrival to ensure we can answer as many of your queries and reassure you that we are doing all we can to keep you safe while allowing you to enjoy your stay with us.
Breakfast will be table service. We have extended the service time for breakfast to 11:30am and would insist that you book your time the night before to ensure we don't have any queuing and allow every guest comfort while enjoying the great breakfast we offer.
All guests on a dinner package will be given a €25 dining credit (food only) to be used in any of the dining outlets.
If you like to dine in any of our food outlets, we would ask that you book your table in advance and rest assured all staying guests are our priority. We are giving a 3 hour time for all in house guests compared to the 2 hours for non residents guests. This will apply on busier nights.
We would ask that you follow the signage through out the hotel. This has been designed to allow to the Flow of guests and reduce the amount of contact between guests. This may not always suit but we would ask for your acceptance and understanding.
All your rooms have been cleaned to the highest standard and we have left a marker on your room to indicate that no one has been in your rooms since it has last been sanitised.
There will not be any daily cleaning of any stayover rooms but if you require any fresh linen or towels, we will leave them outside your door.
We would ask that you contact reception by phone if you need anything for your rooms. If for any reason a team member enters your room we would ask that when you open the door you and who ever else is in the room would procced to the far area of the room to allow our team member space to carry out their duties. This is to ensure the safety of you as well as our team member
We have an express check out for all guests that have pre-paid to reduce the amount of contact times in lobby. Please leave your room keys in the designated box and we will confirm your departure by email.

Food and Beverage
We have 3 F&B outlets within the Bridge House Hotel.
There may be limited opening times as well as limited space. We would ask that all tables or bookings would be pre-booked prior to arrival.
No guests are to be seated unless by the host for that area. This is to ensure that the table has been fully cleaned and sanitized.
All Food and beverages will be brought to your table and we would ask that you would not go to the bar for service
We would ask that you would stick to social distancing guidelines and that there would be no interaction with other tables / groups
We ask that you respect the space of others and that includes the BHH team.
If you feel there is others coming into your space, please make it known to the team and we will deal with it accordingly.
We would ask that your read the signage through out the hotel for guidelines for that particular area and that you go with the flow measures we have in place even if it puts you out of your way. These measures are in place to reduce the contact time of guests.
Public toilets will be measured out and we would ask that you read how many are allowed in each toilet before you go into them.
If you have any concerns with the team or any procedures that are in place, we would ask you to make them known to management asap to make sure we creating a safe environment for you and others. We would ask for your patience as we are also learning to adapt to this difficult time.
The menus and operating procedures have been designed for the safety of the guest and the team in mind. This will mean there maybe a limited menu or a time constraint in place.
The Lobby
· The Lobby will be open Monday to Sunday 10am to 4:30 pm
· On Friday – Sunday we will be open the Balcone for Food and drink with last orders for food @ 9:30pm
The Bistro
· Breakfast 7:30am – 11:30am
· Dinner Service 4pm – last orders @ 9pm
We would ask that all guests would book their table prior to arrival
Bridge House Bar
· Monday – Sunday 10am – last orders @ 9pm
Room Service
Room service will operate on the bar menu and during the opening times of the bar. Please see Bar info for opening and closing times.
We have no tea or coffee facilities in rooms to help the reduction of touch points but if you would like those facilities please contact reception and they will organise for you.
All room service will be free of charge but please be aware we will not be able to bring the food into the room.