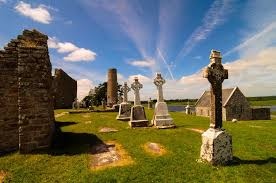 Use the Bridge House Hotel as a base to discover the hidden gems of the Midlands with your family, loved ones and friends. Discover breath-taking scenery, magical castles, stunning landscape and so much more.
Tullamore has so much to offer to start off your journey of discovery.
The Tullamore Dew Visitor Centre on the banks of the Grand Canal focuses on the distilling, canal and urban history of the town. Audio visual and self-guided tours are available.
Charleville Estate is located on the edge of the town. One of Ireland's most splendid Gothic buildings, Charleville Castle, stands in this parkland setting which contains the King Oak, one of the biggest and oldest oak trees in the country. The castle is said to be haunted and was featured on series 1 of Living TV's Most Haunted. The oak woodland is botanically an important survivor of primeval stock.
Tullamore is used as a base for the Slieve Bloom Mountains to the south of the county.
Just south of Tullamore are the unique 'Lough Boora' parklands. The boglands are a landscape for a wide range of flora and fauna. The wetlands and wildlife wilderness of Lough Boora now host some of the most innovative land and environmental sculptures in Ireland.
For the four legged friend that is part of the family why not bring them along on your adveture and treat them to their very own dog hotel, situated here in Tullamore Grand Canal Boarding Kennels & Grooming will give your pet a stay to remeber!!
So come and explore!!
See what Midlands has to offer.